These Are The 10 Safest Cities In America For 2018
We used data and science to determine the cities in America where everyone sleeps safe and sound.
Swipe left for slideshow. Article continues below.
We all want the finer things in life. Love, comfort and safety are at the top of everyone's list.
For a lot of people who live in America, safety isn't a problem, but we don't all get to live in the safest cities -- unless of course you live in Naperville.
The purpose of this post is to determine where the safest cities to live are in America. Those places where crime is usually something you hear about on Facebook, but not from your neighbor.
After analyzing 281 cities in America with a population of more than 100,000, we came up with this list of the safest cities in America for 2018:
Read on below to see how we crunched the numbers and how your city ranked. We have a long infographic to show you individual crime data for each of the safest cities.
If that's not up your alley, for more reading on safe places to live, check out:
Taking the crown as the safest city in America for 2018 is Naperville -- a classic example of everything that makes America great.
We are talking about only having a 1 in 93.3 chance of being the victim of a property crime and a 1 in 1,609 chance of being the victim of violent crime.
That's crazy safe. Compare it to Little Rock, AR -- the most dangerous city in the country -- with roughly a 1 in 30 chance of beign the victim of a property crime.
If you're thinking of moving to America and safety is a top priority, then you can't do much better than Cary -- the 2nd safest in America.
Cary is the kind of place that old timers talk about longingly -- where kids can run around during the day without adult supervision and you can leave your front door unlocked.
You only had a 1 in 99.5 chance of being the victim of a property crime in Cary.
You might not post on Facebook that much, but now's a time to change that. Be proud that Allen ranks as the 3rd safest city in America.
Go on. With all the negativity on Facebook all the time now, this is great news for Allen.
We'll wait here safe and sound.
This gem of a place boasts the 9th best property crime rate and 5th best violent crime rate for 2018.
Source: Public domain
Finishing just inside the top five is Irvine, CA.
You get what you pay for in Irvine -- super low crime rates. A 1 in 1,754 chance of being the victim of violent crime gives Irvine residents a well earned feeling of safety.
We'd move to Irvine in a heartbeat.
Everyone is trying to get in on the quality of life in Murrieta, the 6th safest city in America.
The town of some 111,000 people will have to try and continue to keep Murrieta a secret, lest crime starts going up simply because of people breaking down the doors to get into town.
See what we did there Murrieta?
Frisco is a feel good story of safety and comfort in America.
It has 1 in 68.1 chance of being the victim of a property crime and a 1 in 1,293 chance of being the victim of violent crime.
That's some of the tops you'll find across the country -- nevermind just in America.
The eighth safest city in America for 2018 goes to Sunnyvale. Let's see why.
There were only 158 violent crimes here last year -- which is basically 0 for the average citizen. And there were only 2,140 property crimes to boot.
If you're looking for a safe place to live in America, may we present Thousand Oaks as an option.
While it doesn't sit at the very top of the chart for America, it still has an impressively low crime rate.
1,686 property crimes occurred here, which nets out to being the 7th best in America on a rate basis.
Source: Public domain
And just making it into the top ten for 2018 is Simi Valley.
But we know they don't take this spot for granted -- Simi Valley residents can attest that their home town deserves to be the on list.
In total, there were 174 violent crimes and 1,566 property crimes in Simi Valley; that's really good for a place of 127,000 people and definitely something to be happy about looking forward into 2018.
Breaking Down Crime In The Safest And Most Dangerous Cities In America
How we calculated the safest cities in America
While there are surveys and public polls on what cities in a state are the safest, we didn't want to rely on speculation and opinion. Instead, we looked at the hard numbers from the FBI's most recent report of crime (Sept 2017). Specifically, we analyzed the
FBI's Uniform Crime Report
which summarizes the number of property crimes and violent crimes in each city per year. We used two criteria:
Violent crimes per capita (murders, assaults, rapes, armed robberies)
Property crimes per capita (thefts, burglaries, motor vehicle thefts)
For example, there were a total of 1679 crimes committed in Naperville which had a reported population of 148,070. That means the number of crimes per capita is 0.0113 which translates into a 1 in 88 chance of being the victim of a crime.
We only looked at cities that have populations of more than 100,000 people reported to the FBI in 2016. This left us with a total of 281 of the biggest cities in America to rank.
We ranked each city for each criteria from 1 to 281 where 1 in any particular category is the safest.
Next, we averaged each places two criteria to create a Safety Index. We crowned the place with the lowest overall Safety Score "The Safest Place In America".
The safest city, based on our criteria, is Naperville. The most dangerous city in America? St. Louis, where residents had a 1 in 12 chance of being the victim of a crime.
Note: This report is not an analysis of the effectiveness of local police departments, nor does it reflect the fact that people from out of town may come into a community and cause a crime. It simply looks at where crimes occurred most frequently, based on a city's population.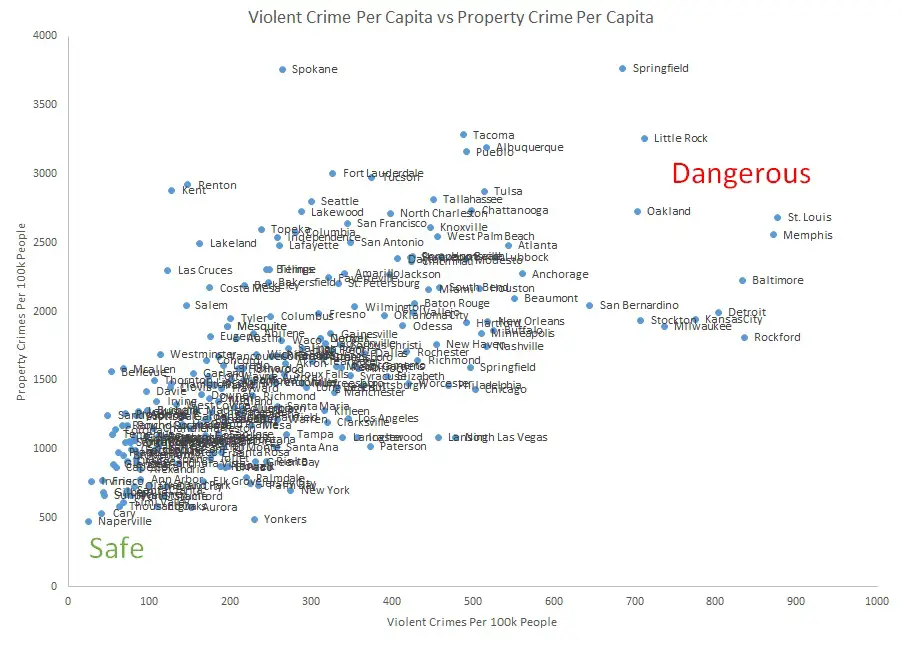 There You Have It - The Safest Cities In The USA
Looking at the data, you can tell that Naperville is as safe as they come, according to science and data.
But as most people would agree, almost every place here has its safe and not safe parts. So just make sure you're informed ahead of time.
Here's a look at the most dangerous cities in America according to the data:
St. Louis
Little Rock
Springfield
For more reading, check out: